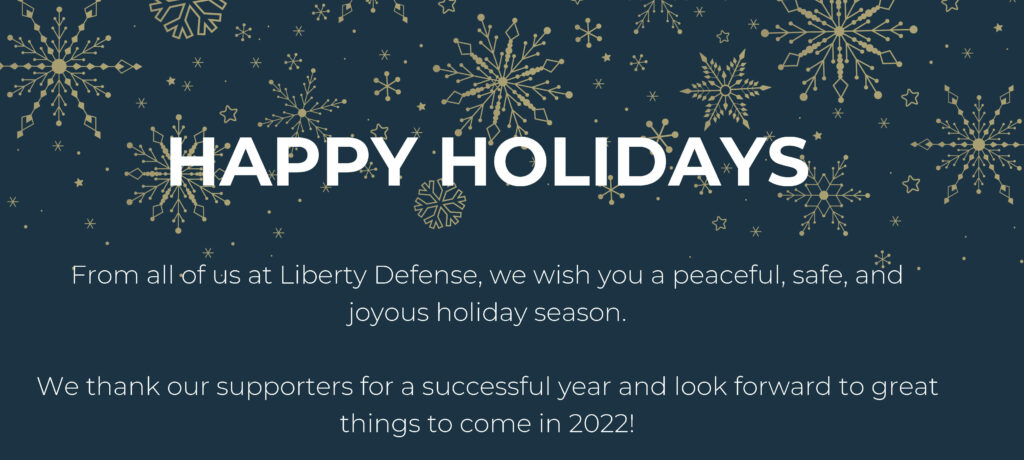 Update from CEO
We want to provide an end of year recap and update to Liberty Defense's supporters as we wish you all the best of the holiday season. Over the last nine months, the company has experienced significant growth in technology development and engineering talent, and the momentum we have gained will propel us into 2022.
We have never been in a better position in these key areas: the tech, an experienced team to build it, key industry partners to evaluate it, and media attention to help tell the story.
The tech
Liberty Defense has a multi-technology portfolio that allows penetration into verticals demanding better security screening detection. Our HEXWAVE walkthrough portal responds to the needs of people screening in stadiums, schools, outdoor events, and the like, while we are also focusing on enhanced aviation checkpoint screening with our disruptive technology of the shoe screener and HD AIT body scanner. As we continue to move forward in uncertain times, it is evident that the marketplace is demanding greater security protocols including the ability to seamlessly screen patrons for all types of threats. We are encouraged by the recent detection performance enhancements implemented as part of our HEXWAVE Beta unit offering. Our special focus on AI based software algorithms allows us to seamlessly detect metallic and non-metallic threats. An advantage over solutions on the market today.
Our technologies are being designed and built by engineers with years of experience in the security industry who are experts in their selective fields. Recent new hires have all joined Liberty from multibillion-dollar, industry-leading companies because they are excited about making a difference to the future of security detection.
Testing partners
In October, The TSA granted Liberty a contract award for $500,000 USD to evaluate HEXWAVE and its expanded capabilities for screening aviation workers at a TSA designated location to enhance security detection and screening throughput performance.
Liberty has also signed beta testing partners who represent verticals with the biggest opportunity for adoption. In 2022, the HEXWAVE system will be deployed by Maryland Stadium Authority who operates Camden Yards – home of the Baltimore Orioles MLB team. We are in the process of signing other Beta clients that we will roll out in 2022 in the industries of transportation, sports, and entertainment, and more, to provide third party validation and vital product feedback. We look forward to commercially releasing the HEXWAVE to the market in 2022!
Media coverage
Liberty Defense continues to enjoy high profile media attention with recent coverage in top tier newspapers like The Boston Globe and The Washington Post, as well as in depth-coverage by CNBC about aviation security. In case you missed it, watch Liberty mentioned alongside market-leading, multibillion-dollar key players in this CNBC piece. Watch the entire coverage or jump to 9:50 and watch to 11:25 for highlights.
We are so excited about the future and thank you for your continued support. We look forward to updating you in the new year as we have more to announce. Stay safe!
Sincerely,
Bill Frain, CEO of Liberty Defense