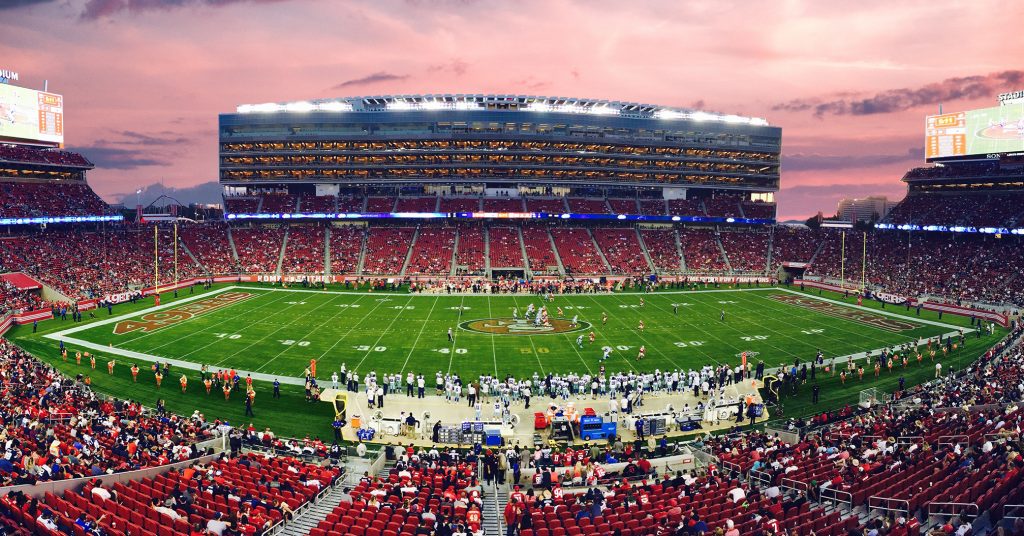 How Stadium Security has Changed in a Post-9/11 World
Sports events are about more than the 'big' game; they're cultural milestones, gathering tens of thousands of people in a single space to share the experience. The average NFL game has over 67,000 people in attendance, ranging from locals to visitors from out of town and around the world. The logistics of these events are massive projects on their own; with games across the US and around the world becoming targets of terrorism and acts of violence they become far more complex.
Security protocols and screening processes for big day events can be complex, and there have been incredible changes in how large-scale security is conducted. Let's take a look at some of the best practices from around the world to see what's working, and how it could improve.
Investing in Training
It should come as no surprise that well-trained personnel are the front line in combating violence in large-scale security. Informed human beings, working together, can be a powerful deterrent and response tool. Joe Coomer, CSSP, Vice President, Security, AMB Sports & Entertainment has said that better vetting and training for security teams has been instrumental in their success. At the Mercedes-Benz Stadium in Atlanta they hire only 7 out of 100 applicants, and offer incentives and bonuses for staff to complete training. Their training options include simulations that stress internal systems and test the Emergency Operations Plan.
Invest in Better A/V and communications Infrastructure
The right technology solutions for surveillance and communications can spell the difference between success and failure in the event of an attack or a disaster. A number of stadiums around the world have committed to upgraded technology in an effort to be better prepared: Ion Oblemenco Stadium in Romania boasts a fully integrated video security system including 211 cameras, centrally managed on a single platform. Darrel K Royal Stadium in Austin, Texas, has implemented a 2-way texting system to communicate with attendees in real time. Floyd Casey Stadium, also in Texas, has built a state-of-the-art system from scratch, including a ticket scanning process to weed out fake tickets, all reporting back to an event operations center.
Invest in Facial Recognition and Better ID
Facial recognition technology will be used in the Tokyo Olympics and Paralympic Games, for athletes, officials, and journalists at game venues. Spectators will be asked to show tickets and submit to luggage checks. Some stadiums have opted for clear bag-only policies. According to a Japan Times report the organizing committee for Tokyo 2020 will issue between 300,000 and 400,000 IDs for those involved in the games.
Invest in Better Security Checkpoints
The way we approach security checkpoints has evolved: Darrel K Royal Stadium has security checkpoints that stretch six blocks, creating checkpoints and a perimeter in partnership with law enforcement officers, and other resources.
According to an article on securitymagazine.com Peter Scheets, MSCJ, Assistant Chief of Police, The University of Texas at Austin University Police has been quoted as saying: "We're establishing checkpoints and perimeters, and it has to do with the terrain and what threats we're trying to address. From the fan's perspective, they're moving through these concentric circles of security as they're going toward and into the stadium, but it's not intrusive; it's just part of the game day experience."
The experience at DKR has been made as seamless as possible, but could be made more effective and less intrusive with Concealed Weapons Active Imaging Detection Technology (CWAIDT). The HEXWAVE™ implementation of CWAIDT is the perfect companion to a strategy checkpoint approach: by keeping fans moving while using smart technology to discreetly identify weapons in real-time it adds a higher degree of safety and security for both attendees and security personnel.
With sporting events continuing to be a key part of our culture the need for security is higher than ever. The changes that these leading spaces have made are a start, with a look to the future and technologies like HEXWAVE™ making it easier to keep us all safe.
Sources:
https://www.securitymagazine.com/articles/89211-how-the-university-of-texas-at-austin-secures-100000-fan-football-games
https://www.securitymagazine.com/articles/89188-hiring-training-and-retention-at-the-mercedes-benz-stadium
https://www.securitymagazine.com/articles/89140-romania-opens-state-of-the-art-football-arena
https://www.securitymagazine.com/articles/89211-how-the-university-of-texas-at-austin-secures-100000-fan-football-games
https://www.securitymagazine.com/articles/86665-the-anatomy-of-21st-century-stadium-security
https://www.securitymagazine.com/articles/89211-how-the-university-of-texas-at-austin-secures-100000-fan-football-games
https://www.securitymagazine.com/articles/88617-tokyo-2020-to-employ-facial-recognition-for-athletes